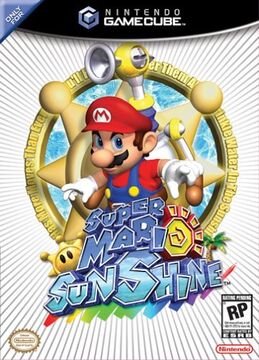 Random cheats for random games.
Super Mario Sunshine
Edit
Relevant to Nintendo Gamecube.
If you collect 119 shine sprites or under by the end of the game, the ending movie will be when El Piantissimo inspects the paintbrush, if you collect all 120, all the characters will appear in the ending movie.
The Legend of Zelda: Phantom Hourglass
Edit
Relevant to Nintendo DS.
Complete the 'Limit' and 'Master' Big Plays in the same match to be Battle Master. (WiFi).
LittleBigPlanet
Edit
Relevant to PS3.
Press Down, Up, L1, L2, R2, R1, Triangle, X at the credits screen. You can skip the tutorials, but still unlock any tools that normally require completion of that tutorial.
Place a sticker on a wood block then set it on fire. Put a piece of glass over the burnt wood and a hidden message should appear.
Select Dark Matter in the level creator and set it to the smallest size. Create a line and it will be almost invisible, standing in the air. Drop from Fly mode and if you land on it you will "float".
Red Dead Redemption
Edit
Relevant to PS3, XBOX 360.
Who? (become a nobody)
HUMILITY BEFORE THE LORD
Jack Attack (turn John into Jack, his son)
OH MY SON, MY BLESSED SON
Decrease bounty
THEY SELL SOULS CHEAP HERE
Old School (sepia graphics)
THE OLD WAYS IS THE BEST WAYS
Money (+$500)
THE ROOT OF ALL EVIL, WE THANK YOU!
Gun Set 1
IT'S MY CONSTITUTIONAL RIGHT
Gun Set 2 (Buffalo rifle, sawed-off shotgun,

semi-auto pistol, Schofield revolver, Winchester repeater, fire bottle x3)

I'M AN AMERICAN. I NEED GUNS
Coach
NOW WHO PUT THAT THERE?
Infinite Ammo
ABUNDANCE IS EVERYWHERE
Infinite Horse Stamina
MAKE HAY WHILE THE SUN SHINES
Infinite Dead Eye
I DON'T UNDERSTAND IMNFINITY
Invincibility
HE GIVES STRENGTH TO THE WEAK
Horse (spawn horse)
BEASTS AND MAN TOGETHER
Lewis & Clark (all areas unlocked)
YOU GOT YOURSELF A FINE PAIR OF EYES
Diplomatic Immunity (no bounty/wanted level)
I WISH I WORKED FOR UNCLE SAM
Famous
I AM ONE OF THEM FAMOUS FELLAS
Man In Uniform (Bureau Uniform, U.S. Army

Uniform, and U.S. Marshal Uniform)

I LOVE A MAN IN UNIFORM
Good Guy (get good reputation)
IT AINT PRIDE. IT'S HONOR
Sharp Dressed Man (Gentleman's suit)
DON'T YOU LOOK FINE AND DANDY
Treasure Hunter outfit
YOU THINK YOU TOUGH, MISTER?
Hic (become drunk)

I'M DRUNK AS A SKUNK AND TWICE AS SMELL
LEGO Star Wars: The Complete Saga
Edit
Relevant to PS3, XBOX 360, DS, PSP and PC.
Unlockable characters: The following characters are unlockable in the game. Simply go to the Cantina, and access the codes command. Then, insert the following codes to unlock the corresponding character.
*Admiral Ackbar - ACK646
Battle Droid Commander - KPF958
Boba Fett - LA811Y
Boss Nass - HHY697
Captain Tarpals - QRN714
Count Dooku - DDD748
Darth Maul - H35TUX
Darth Sidious - A32CAM
Ewok - EWK785
General Grievous - PMN576
Greedo - ZZR636
IG-88 - GIJ989
Imperial Guard - GUA850
Jango Fett - KLJ897
Ki Adi Mundi - MUN486
Luminara - LUM521
Padme - VBJ322
R2-Q5 - EVILR2
Sandtrooper - CBR954
Stormtrooper - NBN431
Super Battle Droid - XZNR21
Taun We - PRX482
Vulture Droid - BDC866
Watto - PLL967
Zam Wesell - 584HJF