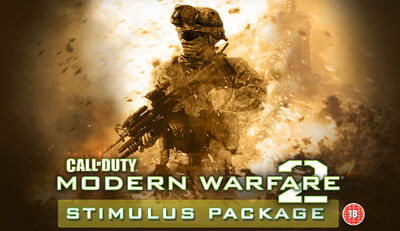 This is the first map pack for the popular
Call of Duty: Modern Warfare 2.
About The DLC
The Stimulus Package is the first DLC for Call of Duty: Modern Warfare 2 and is downloadable from the PlayStation Store, the XBOX LIVE MARKETPLACE and off of the PC. It contains 5 additional multiplayer maps to add to the game, which are listed below and contain 2 new game modes, also listed below.
Me Love Cars - Founder of Motopedia, Gameopedia and Battlefield: Bad Company 2 wiki. 15:46, May 8, 2010 (UTC)
What's In The DLC?
The Maps:
Bailout
Storm
Salvage
Crash
Overgrown
The Game Modes:
Stimulus
Hardcore Stimulus
Price Tag:
UK: £10.99
USA: $14.99
Me Love Cars - Founder of Motopedia, Gameopedia and Battlefield: Bad Company 2 wiki. 15:46, May 8, 2010 (UTC)